I have been telling my readers for years to take up a form of striking martial art. In a striking art, the most fundamental techniques always come down to punching and kicking. When you study martial arts for effectiveness, power, efficiency, and speed, you'll quickly find that different arts have very different techniques. That is because each art is designed for a different purpose.
Every martial art developed differently because the practitioners of each style were subjected to different pressures. For this reason, modern Graeco-Roman wrestling, which developed as a sport, is very different in terms of rules and techniques than its ancient primogenitor. The brutal and rather savage Greek art of pankration was much nastier and more dangerous.
Karate used to be a combat style designed to harden the bodies of its practitioners to the point where they could punch and kick straight through wooden armour. But today it is something of a showy style focused more on forms than on combat (as taught in most dojo, anyway – they aren't all like that.)
In a similar vein, tae kwon do started out as a fighting art, but eventually became a sport art in which the highest points are awarded for kicks. So these days TKD fighters don't use their hands much when sparring. That is why, when TKD practitioners transition into other full-contact arts like boxing or muay thai, they have tremendous trouble with punches to the face.
But almost every striking art – except for Queensbury Rules boxing and bare-knuckle boxing – involves kicking of some kind. So if you're going to learn how to fight, you need to learn how to kick.
The Three Kicks
There are, basically, three types of front-facing kick – straight kick, roundhouse kick, and side kick. Each of these has a few interesting and lethal variations. For instance, the front kick can be a snap kick to the groin or the head, or a pushing (thrusting) kick forward, of the kind that you would use to break down a door, or a stabbing kick with the toe (teep in muay thai). Each has its own uses and is effective in its own right.
But if you want to be good at fighting, these are the three kick types that you must master.
Here are a few videos that illustrate the different ways in which you can learn how to throw effective kicks from Sensei Seth:
Back to Basics
Watching those videos as a practitioner – a VERY bad one, and quite rusty given my travels and all of the lockdowns to which I have been ignominiously subjected – I can tell you that each style adapts these three techniques to be effective under specific situations.
Tae kwon do, for instance, values speed and "flashiness" over almost everything else, so their kicks are designed to shoot out and make impact quickly, efficiently, and without warning.
Karate – or at least some styles of it – will try to find a balance between speed and power, and willingly sacrifices the wind-up that comes from a "true" side kick to achieve this.
Muay thai, of course, is all about delivering maximum damage with maximum power. As such, most nak muay don't actually use a side kick as such – rather, as the third video shows, nak muay kind of adapt their front-kick techniques to twist their hips before impact and turn a straight kick into a side kick.
As to why you need to learn these kicks – I have heard my teachers talk about the need to become proficient practitioners of fighting many times over the years. Several years ago I reprinted a long article from a (now former) senior instructor and high-level black belt at my school that discussed this very need.
And as I've said before, at some length, the way to become good at anything is to master the fundamentals. Nowhere does this apply more than with learning how to fight.
Knee Up, Foot Out
Those three videos above offer some rather contradictory advice about kicking, especially with respect to side kicks. Stephen "Wonderboy" Thompson says that his side kicks, in particular, launch straight up with his heel moving first. As he says, this is contrary to the standard advice about how to kick. And he's right.
The standard way to kick is to raise your knee first – for EVERY kick. And this is the standard advice for a reason: IT WORKS. Every time. No matter what kind of kick you throw, raising your knee first will always get you the desired result. From there you can:
Snap your foot out and strike with the ball of your foot or the edge of your toe to the groin, face, or chest;
Move your hip around and throwing your shin through the target using a roundhouse kick;
Pivot your hips and striking sideways preferably with your heel;
The basics MATTER. The basic method of kicking does not change no matter what style you choose. So, when you throw kicks, make sure that you raise your knee up. This will also help you to disguise your kicks. One of the reasons why TKD fighters are bloody tricky to fight is because they can hide their kicks very well. The same is not true of kickboxers or nak muay. With a nak muay, in particular, you can see his roundhouse kicks wind up from clear across the ring.
(That doesn't mean you can do much to counter him, though. Of all of the striking arts out there, I find muay thai fighters to be the toughest, strongest, most disciplined, and most difficult to fight.)
A Few Words on Krav Maga
I haven't trained in any of the disciplines shown above. My training is in Krav Maga – often disparagingly called "Kosher Karate" or "Jew-Jitsu", and honestly that is with very good reason. Most schools that teach Krav Maga, especially those in the West Coast bullshido factories, are absolute jokes that produce students who can't fight their way out of a paper bag. Lest you think I am being overly harsh, go on YouTube and check out videos of Alliance Krav Maga, IKMF, IKMA, or Krav Maga Global students sparring and showing their techniques. Their movements are sloppy, ill-disciplined, and disrespectful of weapons, concepts, and ranges.
That isn't my verdict, by the way. That is the direct opinion of not just my teacher but of a number of hardass Israeli instructors of the art, in Israel itself. Too many Krav Maga schools around the world churn out subpar students who do not understand how to fight effectively against opponents, either armed or unarmed, and are low-level martial artists.
A big part of the reason why Krav Maga isn't taken seriously as a martial art by REAL fighters is because most KM students don't really spar much. They don't learn the basics of punching and kicking. If they do practice these, most of them do so with no or very light contact.
This is silly and pointless. If you're going to learn how to fight, you MUST learn what it feels like when your foot or shin makes contact with someone else's body. Only then will you learn the pain of smashing your shin into someone else's raised knee – and only then will you experience the IMMENSE satisfaction of blasting your foot into someone's face, or your shin into his ribs.
Your Best Dance Partner
So let's say you decide to learn how to kick. Unfortunately, the world has gone completely insane and we are currently living in a state of blind crazed fear with respect to the Kung Flu. Quite why we should be so afraid of a disease with a 99+% survival rate for most age groups is rather beyond me. But you need to stay healthy and strong in one way or another.
Learning how to kick is a very good way to do that.
Kicks take tremendous energy to throw. A properly executed kick engages every muscle group in your legs. It will also engage your core and stabiliser muscles throughout your glutes and back. And you will learn how to balance yourself properly in the process. It is not uncommon for people to fall flat on their butts (or faces) when learning how to throw kicks. So if you are going to practice them, be sure to do so in a clear and safe area.
But ultimately, you need to throw kicks against a target. You need to feel impact and resistance with your kicks. And for that, you need a heavy bag.
This isn't always practical for everyone. Heavy bags are… uh… heavy. You need a place to hang or place one. If you have space in a garage, that is easy. But if you are in a small apartment, this is rather less than practical.
Nonetheless, if you take up a striking art, or choose to learn one on your own, you need a heavy bag. Get yourself either a Venum hanging bag, or a standing sparring bag of some kind.
Admire Your Handiwork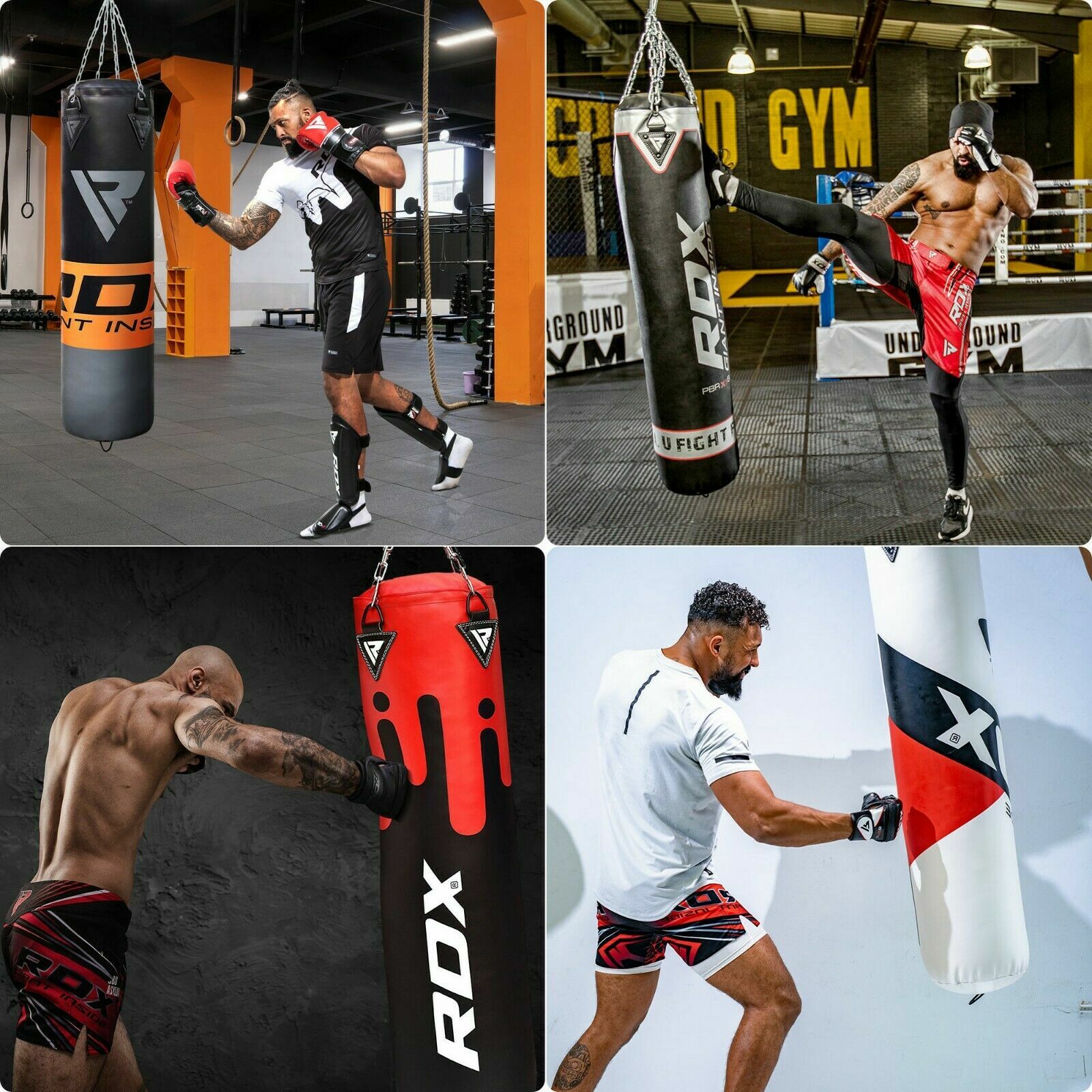 It's not enough to practice your kicks, obviously. If you get a heavy bag, you need to practice punches too. (And elbows and knees while you're at it – there is a reason why muay thai is so lethal both inside and outside the ring.) So you will need some hand wraps and/or boxing gloves. I recommend the Hayabusa hybrid 7oz gloves for the absolute best mix of comfort, durability, safety, and quality. If you want proper boxing gloves, get a pair of Hayabusa 14oz or 16oz training gloves. Those guys make simply THE best combat equipment in the business, as far as I'm concerned.
Get a heavy bag. Beat the ever-loving SHIT out of it with your fists, elbows, knees, and shins. And watch your fitness levels skyrocket along with your mood.
Conclusion – Fight to Live
As I have said for years, if you want to get fit, strong, and tough in a very big hurry, learn how to fight. If you are going to learn how to fight, then you MUST learn how to kick. A skilled and complete fighter knows how to kick. More importantly, a skilled fighter respects the ranges at which kicks are effective. Not every tool works at every range.
Moreover, as my teacher tells all of his students, if you can't strike, you can't fight. He used to tell us all the time that if we trained to throw shitty kicks, then we would certainly never be able to defend against knives. And he is right.
Finally, if you decide to learn how to fight, then invest in a bit of equipment to help you do that. Get yourself a heavy bag (if you can). Invest in a good pair of boxing gloves. Take your gloves to the gym if you can't put a heavy bag in at home. Beat the shit out of that heavy bag for 30-45min. You WILL be exhausted afterwards, and that is good. Practice your striking at every possible opportunity.
Above all, respect and learn the basics. Practice them often. Never compromise on your form when throwing kicks. If you throw them for speed, then focus on techniques which minimise injury risk. Alternatively, if you throw them for power, then always turn your hip and push your knee through the target before unleashing the shinbone.
I'll leave you with a couple of videos to demonstrate the sheer terrifying power of really skilled kickers: