Today we have a short guest post from longtime reader and good friend of the blog Dawn Pine, aka The Male Brain. This post focuses on the predatory and solipsistic nature of many modern young women in the West, who seek to test the fidelity of the men that they date.


Many thanks as always to Dawn Pine for his consistently excellent contributions.
I happened to come across the following vid:
TL;DR (or in this case, perhaps TL;DW): there are private groups (probably on Faceborg) in which girls share info on guys they date, or used to date. One of the "services" the group provides is a "lure pigeon" – a girl contacting your BF and trying to flirt with him. That's in Denmark.
There is an old joke about perception:
Materialist – a person who walks into a dark room, searches for a cat that does not exist yet he knows that it does not exist.
Idealist – a person who walks into a dark room, searches for a cat that does not exist and he believes that it does exist.
Marxist – a person who walks into a dark room, searches for a cat that does not exist and finds it.
Those girls are somewhere on the spectrum from Marxists to Idealist. They are trying to bait or lure someone to check him. So instead of asking or looking for signs of infidelity – they outsource it. They are "Idealist" in the sense that they are looking for something that might not be there – yet they believe it is. The worse aspect is the "Marxist" one – let's say the BF does flirt with the decoy – so what? Does that prove infidelity?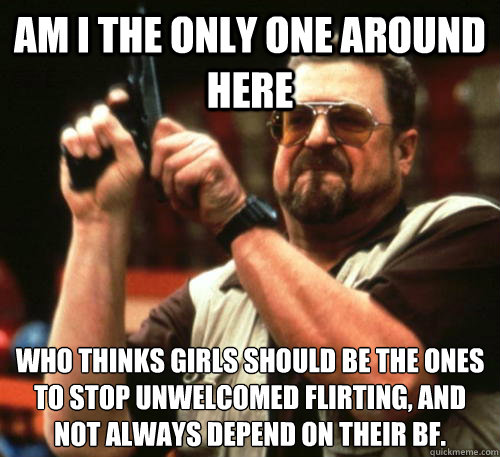 That was the semiotic level. There are further levels to explore. The next one is the moral level:
Trying to use male thirst (or innate desire) to trick someone is completely and utterly wrong. It's like giving a girl on a diet a large sweet candy – you don't do that because she will be tempted to eat it and break her diet. I used the diet example to show girls what it is like. Let's say she takes it (and most girls I know will take it). Most people will blame you for giving her the candy, not her for eating it all.
The Bible tells us: "You shall not curse the deaf or put a stumbling block before the blind, but you shall fear your God: I am the LORD." (Leviticus 19:14). The principle behind this is profound and goes far beyond the literal meaning of the words. It means that you are prohibited from the facilitation of a sinful act by another individual, where the person in question would otherwise have lacked the opportunity or means to have committed the sin.
To facilitate this sinful act makes you an accessory after the fact – in other words, you share in the sin of the sinner. So the women who tempt their men to cheat, are actually cheaters themselves by definition.
Next, let's move to the practical level – or what should you do about it. I leave out the legal issue, as I'm no expert. Joker puts it wisely – if a girl contacts you out of the blue – inquire. Caveat emptor with modern women, at all times.
Let's assume that you are in a monogamous relationship.
If it's a dating site you were approached on – you should not accept the attention. Your profile should have been either deleted or frozen. Be very suspicious of the approach. If you were approached on FB or other social media – be polite and thank her for the attention. If it is in person – that is deeply suspect and your guard should be up. I have opened hundreds of girls and have yet to see a girl opening anybody.
That does not mean it doesn't happen. It probably does in some cultures. Yet I tend to believe that the CHADs will manage one way or another.
Also – my rule on relationships (and I strongly stand by it) is that if I gave my word – I should stand by it. If you promised monogamy – stick to it. If it doesn't work for you (or both of you) – say it. However, if I did not promise something – it is not implicit that I should provide it. I went head to head with several girls on that – either she leaves, or she stays on my terms.
And last – if your girl does that to you – drop her faster than the lesbian Mayor of Seattle dropped her police station in CHAZ. It is an amoral act of ill-faith, and you should hard-next that person ASAFP. No one, and I mean NO ONE should be in a relationship with a person who tries to entrap/decoy them. Leave it to Kate Bush's songs (Babushka). The guy who was the subject of the video that inspired this post, decided to stay with his GF (cough "SIMP" cough) – so that's on him.